In more than a dozen stops around the state throughout March, Gov. Gretchen Whitmer visited classrooms to read with young people. At every point along the way, she also spoke with adults – educators, administrators, parents – to sell her proposal for reinvesting in the state.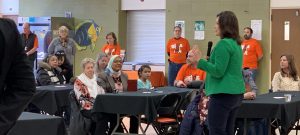 She had to make difficult choices in writing a budget plan, she told a Jackson crowd that stayed after school to hear her ideas.
Whitmer is proposing a gas tax increase to pay for road repairs, which would be offset for lower-income residents by increasing the Earned Income Tax Credit and eliminating the pension tax, among other strategies.
"We can fill potholes by stealing from the School Aid Fund, or we can put an honest solution on the table," she told the audience in answer to written questions shared by Jackson Superintendent Jeff Beal.
Smaller class sizes, reading interventionists, and educator retention are examples of the important priorities that could become realities with additional funding for education, said Jason Cichowicz, a fifth-grade teacher in Troy and officer in the Troy Education Association.
Whitmer visited Troy and met with educators and community members to outline her ideas and the rationale behind stopping raids on the K-12 School Aid Fund, which have become an annual occurrence over the past eight years and now totals $1 billion.
Investing in the future via PreK-16 education will pay dividends for the state, Cichowicz said, just as spending money on fixing roads – instead of car repairs – is good for Michigan. "Nobody likes taxes, but investing in education will positively impact the economy in the long term."
Under her budget plan, Michigan's public schools would receive a $120-180 per-pupil boost in funding, plus additional aid to support the costlier needs of at-risk, special education, and career-technical students.
View this interactive map to learn what Whitmer's plan would mean for your district.
Her plan follows recommendations of several recent studies which examined Michigan's school funding system and found a chasm between the per-pupil foundation grant and the true costs of educating a child.
The budget Whitmer unveiled before a joint session of the state House and Senate Budget committees would increase K-12 education spending by $507 million in the next fiscal year.
In addition, the governor reaffirmed her commitment to increasing the number of residents who hold post-secondary degrees or skills certification by funding programs to retrain adult workers and to guarantee two years of debt-free community college or university for qualifying students.
School employees in Utica are optimistic following a Budget Town Hall Whitmer held there, said Courtney Moore, a middle school English teacher and UEA treasurer. Educators want to see a more level playing field.
"Our district is under-funded as opposed to others nearby, and the increase in per-pupil funding will change how our kids learn," Moore said. "With an increase, our district can prioritize funding for new textbooks, curriculum, and technology."
In addition, dedicated school employees deserve more than the concessionary contracts they have taken in the past few years, she added.
Whitmer warned lawmakers in her budget presentation last month that the state is at a crossroads.
"We've all seen the headlines—our kids are falling behind, and our schools don't have the resources they need. It's taking a toll on our educators, who are leaving for better opportunities or who are not going into the career in the first place.
"We've got classrooms crammed with kids who need more face-to-face time with their teachers, and their outcomes make us less competitive."
In addition to $235 million for the per-pupil bump, Whitmer's proposal would increase the reimbursement to districts for federally mandated special education services ($120 million); strengthen support for disadvantaged and at-risk students ($102 million); and provide additional career and technical education opportunities for students ($50 million).
The most comprehensive study ever conducted of K-12 school financing in Michigan, released last year, found the state is not only under-funding public education by nearly $2,000 per student but neglecting the needs of English language learners, students living in poverty, and those identified with learning challenges.
"Underfunded special education programs are forcing schools to redirect resources, and funding for at-risk students has fallen by 60 percent," Whitmer said.
Last year's study by the School Finance Research Collaborative was bolstered by research released in January from Michigan State University which found Michigan had implemented the steepest decline in K-12 education funding among all 50 states over the past 25 years.
"Every other state in the nation is meeting their kids' needs better than we are," Whitmer said. "Our goal has got to be taking Michigan from the bottom 10 in the country to the top 10 in educational outcomes for our students."
Whitmer said the decision to be made at this crossroads is whether to continue down a path of disinvestment in infrastructure and talent, or to make "bold investments" that improve education and opportunity for every student in the state.
"No more shell games and half-measures. Here's a real plan."
Adrian Education Association Vice President Jeff Condon said a community budget presentation from Whitmer in the Lenawee County district received "an incredibly positive response" from students, parents, staff, and administration.
It was clear the governor "gets" education issues, and she deserves strong and vocal community support to get her ideas implemented, Condon said.
"We need to get behind the governor's budget so we can stop filling holes – literally and figuratively – and focus on loving our state forward. Her proposed budget addresses infrastructure needs while investing in Michigan's future, our kids, by making the kind of major investment in public education we haven't seen in many years."