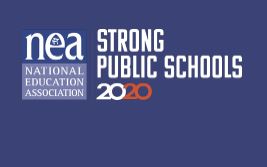 NEA's new StrongPublicSchools.org website offers some great tools to help you learn more about the candidates for the 2020 presidential race and get engaged in next year's election:
– Compare Candidates – Especially useful given the number of candidates running, the Compare Candidates tool lets you select from everyone running to learn more about their stances on issues important for public education, social justice and worker rights.
– Ask the Next President – If you could ask the presidential candidates one question, what would it be?  Here's your chance – use this tool to record your question and help draw attention to the challenges facing public education.
– Poster Contest – NEA members are creating an official Strong Public Schools 2020 campaign poster. It's your turn to vote for your favorite design!  Cast your ballot by Saturday, July 6 – the winner will be announced at the NEA RA in Houston on July 7.