Last August, MEA member Bob Cindric went on a church mission trip where he found as much as he gave. As a result, he returned to his school district in Michigan with an ambitious new cause.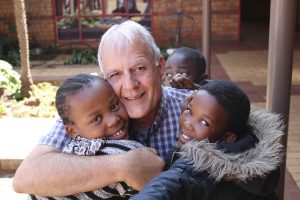 A 39-year music teacher in Saline Area Schools, Cindric was so moved by the love and perseverance he saw among children living in a South African orphanage that he took on the goal of helping to open a school at Middleburg Care Village.
Right now, the 110 children who live at Care Village due to neglect and abuse are bused out to 18 different schools, where they often are made to feel like outcasts because they cannot afford to pay tuition as other students do.
"The children are basically scorned, and that's not a slam on the schools in any way," Cindric said. "These children are two to three or more years below grade level; class sizes in South Africa from my understanding are anywhere from 40 to 60 children, so the teachers can't catch them up."
Within a day or two of his arrival at the village, Cindric got to thinking about old used furniture that his district was replacing with money from a bond issue. Upon his return to Michigan, he got an immediate OK from Saline Supt. Scot Graden to donate the unwanted items.
Cindric also got buy-in from Graden and a huge number of educators in Saline for his plan to help raise money and develop teaching materials to open a school at the orphanage.
"Every single request I have asked for, the answer has been 'Yes,'" Cindric said. "People think it's a pretty amazing opportunity to make a difference, and they have stepped up to help.
The ultimate goal is to build a global connection between Saline and South African students through student exchanges in which South African students come to live and study in Saline and vice-versa.
"We have long-term grandiose plans that we're excited about," Cindric said.
A team of Saline teachers helping devise curriculum for the K-8 school will be visiting the orphanage over spring break in March. Cindric's church, Saline Presbyterian, is helping to raise $4,400 to pay the first year of four teachers' salaries to get the school opened.
"I'm not a philanthropist looking for a cause; the cause found me," Cindric said. "These children touched my heart."