More than 450 educators from capitol-area school districts stretching from St. John to Holt, Okemos and Lansing have returned to their school duties armed with some health and safety essentials courtesy of their local unions.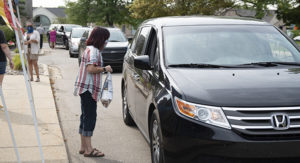 Every year, several MEA units combine their efforts in a late August back-to-school bash that draws hundreds to a family cookout with food, games and music. This year, however, the event shifted from an in-person gathering to drive-through distribution at the MEA Okemos field office.
Every one of the 450 members who registered and drove through received a kit with emergency supplies, such as hand sanitizer, vitamin c, masks, tissues, touch screen wipes, and face shields, among other items.
They also received a boost from Lansing Education Association President Chuck Alberts, who told Lansing's WLNS, "My message was really simple: you're already great, and keep working hard. Challenges are going to arise, but make sure you keep persevering and you're going to do an outstanding job."