MEA member Jody Mackey's middle school students in Traverse City are used to doing news interviews, often on camera, as part of their digital media class. But this video project was different.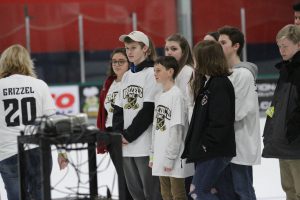 The grave subject matter involved a stigmatized national crisis that is also striking hard in the local area. The interviewees were sometimes deeply emotional. And the finished product would eventually receive a public screening before a hushed crowd of thousands in the community.
"I have 55 students this year in two sections of the class, and they all wanted to be a part of this," Mackey said.
The seventh and eighth graders' powerful 18-minute documentary, Predator & Prey: Opioids' Savage Effect on our Community, was made with the help of a former student of Mackey's, 19-year-old Shane Bagwell, who graduated last June. The video has been viewed more than 7,000 times on YouTube.
The film shines a searing light on the epidemic of opioid addiction and death.
In 2017, overdose deaths in Traverse City jumped to 23, compared to six the previous year. Four recent alumni from Traverse City Area Public Schools have died from opioid overdoses in just the past year, Mackey said. Three of those had been her students, she added.
"My students did not even know what this opioid stuff was before making this documentary, so I put out old yearbooks to show them that the kids who are passing from this crisis had sat in these very chairs," she said.
The film premiered at a special hockey game to honor a popular former student and star athlete, 23-year-old Alex Grizzell, who died of an opioid overdose in October. A large screen was erected on the ice for halftime viewing, and proceeds of $25,000 from the event benefited local addiction treatment services.
Grizzell's family was interviewed in the documentary, along with his best friend who also became addicted to opioids and survived an overdose. Friends and families of other local victims, as well as addiction experts, also were featured in the video.
"We didn't know if 100 people would show up to the benefit, or 500, but it was packed – pushing 2,000 people – and they were weeping in the stands," Mackey said.
The students already had faced heavy emotions while making the documentary, as they worked in teams to interview grieving family members left behind after an overdose. The students are used to talking with adults for school news stories, but "This was a big step up," Mackey said.
"The students were uncomfortable at times, but I talked with them about being understanding, empathetic and professional. The kids had to offer crying mothers Kleenex at times. We had to be patient and let (family members) tell us what they were comfortable with."
Blended with the wrenching personal stories were observations from paramedics and addiction counselors, plus a number of startling facts about the opioid crisis. For example, nationwide 100 people die from opioids every day, and the number is projected to climb to 250 per day by 2027.
The urgency of the crisis and the lack of open conversation about what's happening are the reasons why local victims' families – and overdose survivor Tyler Thirlby – wanted to participate in the documentary.
"We're giving the community and the press permission to talk about it," Mackey said.
The film contains two primary messages: Addicts need help, not stigma and blame. And opioids are destroying towns and cities across the country. Thirlby is telling his story to try to save others from his best friend's fate. Alex Grizzell died while Thirlby was in recovery.
"I'll tell you this—my students may not have known much about the issue before, but they are not ever going to do opioids after this," she said.
Working with her former student, Shane Bagwell, has also been beneficial for her current middle schoolers, Mackey added. Bagwell, who has continued to hone his video production skills, shot the "B-roll" images that intersperse with footage of people talking. He also helped with editing.
"It was fun for the kids to see how they could grow into that role," she said. "They're not that much younger than Shane is, and to see that they could grow to be that good if they got passionate about the craft is pretty powerful."
Now Mackey is getting requests for screenings of the documentary from other schools and organizations across northern Michigan. The project has been a powerful teaching tool for the self-taught yearbook and newspaper advisor.
Her students will never forget the experience. After the screening at the hockey game, they all filed out on the ice to a standing ovation. "They're getting so much attention, it makes them realize they've done something super important."