Students in a Kenowa Hills STEM program literally watched their ideas soar into the atmosphere at the end of the school year.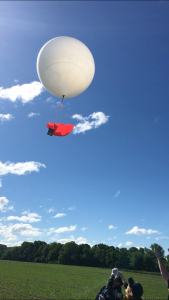 The freshmen and sophomores in the two-year-old program highlighting applications of Science, Technology, Engineering and Math (STEM) competed to design a payload for a weather balloon. The winning teammates saw their plans launched 85,000 feet into the sky in June.
The goal of the Capstone project was two-fold: to load a weather balloon with gear light enough to travel very high but sophisticated enough to capture images under challenging conditions, and then to recover it. Students calculated the flight based on weight and wind speed.
Federal Aviation Administration regulations cap the weight for such a flight at four pounds. Students also had to figure out how to position materials in the payload to optimize the ability to capture images.
"As students get older, you need big projects that get them engaged and thinking big picture and getting away from some of the content focus to really dig in," said Lance Jones, the math teacher who helps to run the district's K-10 STEM program along with science teacher Jeremy Cusick. . View the story and pictures.