Find a Labor Day event near you and join in commemorating the holiday by sending a message that educators and other hard-working Americans deserve the freedom to have their voices heard, earn a decent living, and retire with dignity.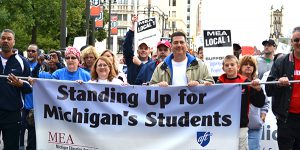 MEA members will be donning their union gear [https://mea.org/merchandise/] and participating in festivities across the state on Monday, Sept. 4:
In Detroit, our members will join MEA President Paula Herbart and our AFT Michigan brothers and sisters in the Detroit Labor Day parade. Staging will take place at the intersection of Michigan Avenue and Wabash beginning at 7:00 a.m.
The Detroit parade steps off at 9:30 a.m. with participants marching south on Washington Blvd. past Cobo Hall and the UAW Ford Program Center to the Labor Legacy Monument at Hart Plaza.
The Muskegon Labor Day Parade starts on the corner of 4th and Western Ave. at 11 a.m., followed by a community celebration at Hackley Park.
In Ishpeming, the parade starts at 11 a.m. on Euclid St., with a picnic from noon to 4 p.m. at Lake Bancroft Park and Cliffs Shaft Mine Museum.
Others will join the Mackinac Bridge Walk. Anyone interested in attending can meet up with other MEA members in the pavilion on the St. Ignace side of the bridge.
In Grand Rapids, instead of a parade, Labor groups have joined together to organize the ninth annual West Michigan Labor Fest – a day of entertainment from 11 a.m. – 5 p.m. with free admission to the Gerald R. Ford Museum, plus food, beer, entertainment and activities for the kids at Ah-Nab-Awen Park.
MEA members from west Michigan will have an exhibition table at the Labor Fest, and various labor groups will be handing out school supplies to visitors.
Anyone in need of more information can contact MEA's Andy Neumann at ANeumann@mea.org.