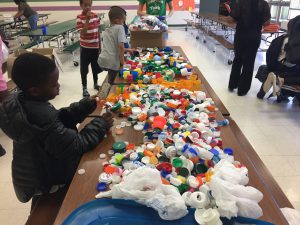 Future teachers from MEA college chapters around the state joined forces to help students at a rural elementary school in northwest Michigan turn ordinary bottle caps into a lovely sitting bench for their school campus this spring.
Aspiring Educators of MEA led students at Baldwin Elementary School in collecting more than 260 pounds of plastic bottle caps for the college students' service project. That's approximately 54,000 caps.
Students at the year-round elementary school in Baldwin got their first look at the caps' new incarnation as a yellow bench with black legs during an assembly last month, where they also learned which class earned a pizza party for collecting the most donations.
"They were so proud of what they did—it was very heartwarming," said Rachel Evans, vice president of the Ferris State University chapter of AEM.
After collecting bottle caps for several months, the future educators worked with second- through fourth-grade students attending an after-school program to sort the donations by size and color. The kids were rewarded with popcorn and juice.
Then the sorted caps were transported to manufacturer Green Tree Plastics in Indiana.
The young students learned about recycling and reuse through the project, but as importantly, "They realized by coming together and working together, they could create something out of practically nothing," Evans said.
Aspiring educators participated from several universities, including Michigan State, Western Michigan, Eastern Michigan, and Saginaw Valley State University. The AEM chapter from Ferris coordinated the project.