Six lucky members who signed up for MEA's new Staples discount program by the end of June have won a "classroom refresh" random prize drawing. The winners will receive approximately $250 in 3M products for their classrooms.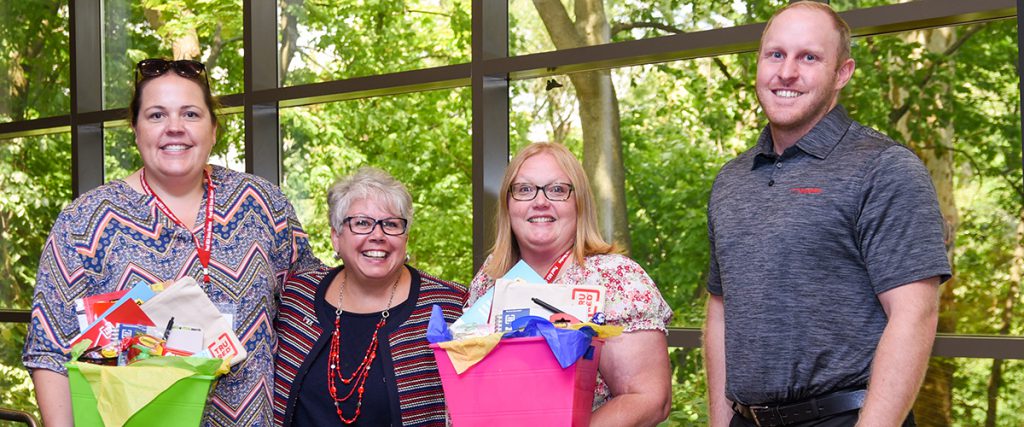 Have you signed up yet? From Aug. 1 through Oct. 29, members who order online through their StaplesAdvantage.com account will receive an additional 5 percent off of every purchase on top of already big savings.
When you order online through your StaplesAdvantage.com account, the 5 percent discount will automatically apply at check out. Thousands of registered MEA members already receive an average discount of 30 percent on their purchases every time they shop.
Register by logging into the MEA Members-Only area at mea.org/members-only.
Two of the classroom refresh winners (April Switzenberg and Katherine Sibalwa, pictured here with MEA President Paula Herbart and Staples' Joe Holton) were on-hand at the MEA Summer Conference in East Lansing this week. Here are the six lucky winners:
Amanda Feyen, teacher, Manistee
Erin Michalak, teacher, Clawson
Heather Skulan, teacher, Wakefield-Marenisco
Katherine Sibalwa, teacher, Byron Center
Betsy Spray-Comstock, teacher, Atherton
April Switzenberg, paraeducator, Mason