Teacher Evaluations
According to MEA member survey results, drastic changes to the teacher evaluation system in Michigan over the past several years have drained educator morale already battered by stagnant pay and declining benefits.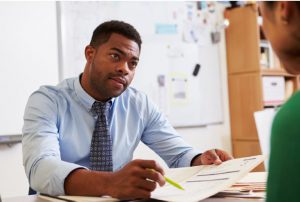 Now a new MEA training cadre aims to empower teachers to make any evaluation tool used by their district clearer, fairer, and more effective in spurring meaningful reflection and growth in practice.
Thousands of MEA members who responded to a recent online survey reported that new evaluation tools required by the state waste time and don't improve classroom practice—amounting to time-consuming "hoop jumping" instead of providing valuable insight or feedback.
Across all four evaluation tools the state now requires districts to choose from, 70 percent of survey respondents said the system used by their district has not improved their teaching. The 5 Dimensions of Teaching and Learning tool had the lowest dissatisfaction rate at 64 percent.
More than 77 percent of teachers who took the survey said the new tool used by their district takes more time away from teaching. One commented: "It adds an incredible amount of unnecessary busy work to both teachers and administrators."
The Thoughtful Classroom and Charlotte Danielson's Framework for Teaching had the lowest percentage of time-wasting complaints at a still-whopping 72 and 74 percent respectively.
Survey respondents complained that the rating system for determining a teacher's effectiveness level often feels arbitrary: "There is no way whatsoever that any teacher in my district will ever receive a score of 'highly effective,'" one teacher said. "Everyone has been told that this will be impossible to attain from the highest level of our district administrators."
The survey confirms what MEA staff are hearing in the field, said Tammy Daenzer, a UniServ director in Tuscola County. Daenzer says teachers sometimes get marked down in areas that cannot be observed during a short classroom visit by an administrator. Others don't know why they received a score in a particular area.
"One of the questions is—how does someone prove they're actually doing what they're supposed to be doing?" she said.
In response to member concerns, Daenzer and a number of other MEA UniServ directors have formed a training cadre that partnered this summer with the Michigan Department of Education (MDE) to develop tools and strategies for teachers to have a stronger voice in evaluations.
The information will be presented at various meetings with MDE officials to be held around the state in late summer and early fall, and local associations also will be able to request a training to be scheduled in their area.
While MDE did not create the teacher evaluation laws, the department's job now is to provide the best support possible to educators, said Rebekah Emmerling, who heads up the Educator Evaluation Unit at MDE.
Many steps can be taken at the individual and building level to improve the process, including strategic conversations with administrators in advance of observations. Teachers should also know how to build evidence of their effectiveness so they can advocate for themselves.
Perhaps most importantly, as educators across the state struggle to adapt to new and imperfect evaluation tools, it is possible for teams of educators to add clarifying information to their evaluation tools if administrators agree to do so, Emmerling said.
Such an addendum could spell out what teacher and student behavior looks like in a highly effective classroom, broken down by grade levels, content areas, or specific subsets of learners as needed to create clarity in a building, Emmerling said.
"The goal is to make sure that evaluation isn't something being done to you, but it's being done with you," she said.
To learn about training sessions scheduled near you, sign up to receive MEA's Voice Online e-newsletter by going to www.MEA.org/signup and entering your email address—and be sure to like our Facebook page to stay up-to-date on the latest news and events.
New trainings on the educator evaluation system will focus on drafting Student Learning Objectives (SLOs), utilizing tools to effectively demonstrate student growth, and providing evidence of student engagement. MEA is partnering with MDE and other school groups to offer the information intended to empower teachers and improve the evaluation process.
K-3 Reading Law
Less than one year after it was signed into law, a sweeping new K-3 reading law will begin to be implemented in classrooms this school year, and many educators still have not received detailed information from the state or their districts about what's required.
A new MEA training is available to help teachers understand the law's components and what will be required of educators beginning this year and beyond.
Summer training sessions in the Eastern Zone attracted dozens of teachers who wanted to learn more about Reading Intervention Programs required under the new law, in addition to testing mandates that begin in the first month of school, said UniServ Director Terese Fitzpatrick.
Beginning this school year, K-3 students must be tested three times a year, and students with reading deficiencies must be given an Individual Reading Plan. Districts will be required to provide additional training and literacy coaches for K-3 teachers.
Retention of readers testing a year or more behind grade level on the state's annual reading test is not scheduled to begin until the 2019-20 school year. MEA's lobbyists continue to pursue improvements to the law and to work for full funding of mandated programs.
Contact your local UniServ field office to schedule a training session on the K-3 reading law.