A new MEA training is available to help teachers understand the components of the new K-3 reading law and what will be required of educators beginning this year and beyond.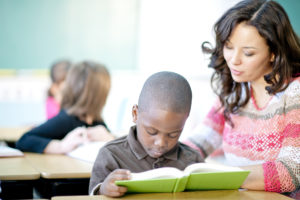 The sweeping new reading law will begin to be implemented in classrooms this school year, less than one year after it was passed, and many educators still have not received detailed information from the state or their districts about what's required.
Summer training sessions in the Eastern Zone attracted dozens of teachers who wanted to learn more about Reading Intervention Programs required under the new law, in addition to testing mandates that begin in the first month of school, according to UniServ Director Terese Fitzpatrick.
Beginning this school year, K-3 students must be tested three times a year, and students with reading deficiencies must be given an Individual Reading Plan. Districts will be required to provide additional training and literacy coaches for K-3 teachers. Retention of readers testing a year or more behind grade level on the state's annual reading test is not scheduled to begin until the 2019-20 school year.
Contact your local UniServ field office to schedule a training.