by Brenda Ortega – MEA Voice Editor
For the first time in decades, an entirely new slate of statewide officers will take the reins at MEA next month—and their first order of business will be to embark on a Listening Tour across Michigan.
Incoming President Paula Herbart, Vice President Chandra Madafferi, and Secretary-Treasurer Brett Smith want to hear the stories of members—to learn about why they do what they do and what supports and changes they need to ensure a great public education for every student.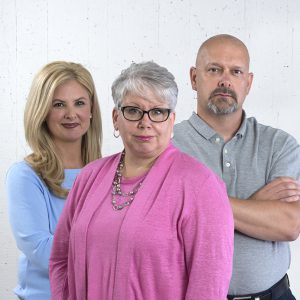 "We all ran for office with a vision of what we'd like to see the MEA become," Herbart said. "Marrying our vision with the hopes of our local leaders and members will make MEA its most strong, its most vibrant, its most relevant going forward."
The three new leaders were elected at the spring Representative Assembly in April and will assume their offices on Sept. 1. The Listening Tour will kick off in late August, and additional dates will be added throughout the fall.
Herbart compared the trio's role in the listening events to being the lead geese in the triangle, encouraged to keep steady by the honks of those following behind them.
"People right now are honking and encouraging us to keep going, and we have to listen to keep our strength up," Herbart said. "Without their words, without their knowledge base, without their ability to articulate what they see for us, we cannot lead."
For his part, Smith said he plans to use Tour stops to brainstorm with local presidents, veteran educators, and newer hires about the best ways to interest prospective members in joining the union.
"Obviously we can't solve every problem right away, but listening to people is absolutely key to making the union stronger," Smith said.
However, while listening to members will take center stage, Madafferi said she hopes the members who attend Tour stops will be learning as well as sharing.
"I hope that people will see Paula as their leader, and they get to know her heart and her spirit," Madafferi said.
The leadership team agrees that the morale of school employees has fallen to an all-time low in recent years as funding cuts have stagnated pay and benefits, while over-testing and over-reliance on standardized testing data have hampered teacher and student creativity.
Privatization and corporate takeovers loom as major threats, but public sentiment has remained strong for neighborhood public schools, operated by elected local boards and fully transparent and accountable in their operation—unlike for-profit charter schools.
Also on our side? The passion of our people, Herbart said. "I know very few public school educators who wanted to do anything else with their lives but what they're doing. They love their work, and they love their students, and that's why they're in this fight."
Attend a local Listening Tour stop!