MEA member Dr. Mona Sirbescu, a geology professor at Central Michigan University, helped verify a 22-pound meteorite used for decades as a farmer's barn doorstop—the sixth largest of 12 meteorites ever found in Michigan.
Who was the man who brought you the rock for analysis?
His name is David Mazurek, and he got to me through one of my former students who works as a geologist in Grand Rapids. David sent me a very interesting photograph. We talked on the phone and then he traveled from Grand Rapids, and he brought this pretty heavy specimen to me.
What did he say when you met?
He purchased a farm close to Edmore, Michigan, and he saw this rock holding the barn door. He was told this rock fell from the sky with a big boom. The old gentleman who sold him the farm remembered as a child seeing the ball of fire, and his relatives dug it out from the crater, still warm. But this is like a myth. We don't have this older gentleman to discuss the record. We don't see a clear crater in that area. Because of that, this meteorite is classified as a find, not as a fall.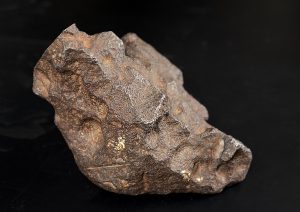 What does this rock look like?
The whole meteorite is basically a metallic object. It has a very irregular shape. It has the typical little indentations like thumb prints which are caused by partial melting as the meteorite burns.
What is the process used to verify?
The process started with me sending a photograph to the curator of meteorites at the Smithsonian Institution in Washington, D.C. The next step of the process was for me to get a tiny slice, with permission from the owner, and send it to the Smithsonian. Just before I did that, we used an x-ray fluorescence instrument—or XRF—to connect the chemical composition, and that fell right in the field where it belongs to in terms of concentration of iron and nickel. Separately, Dr. Cari Corrigan at the Smithsonian conducted other microscopy, and she confirmed without a doubt that it is iron meteorite. It has a specific pattern called widmanstätten—it's a German name—and that pattern is revealed on the fresh surface that I cut after adding a bit of acid with a certain concentration. That pattern is unique. You cannot reproduce it on Earth. It cannot be faked.
What was your reaction when you realized what you were looking at?
I was ecstatic. This is quite unique. People bring meteorite suspects all the time, but it turns out they're not meteorites; they are meteor-wrongs for the most part.
How much attention has this discovery received in the media? 
Well, the university communications writer who wrote the first article here at CMU said the news about the Edmore meteorite was clicked on through the internet by over 1.5 billion people.
Billion with a B?
With a B. It was first talked about on CNN, and then it was picked up by Time, BBC, Weather Channel, everything. And it went to all sorts of news organizations, even the national news in Romania—and I'm from Romania. I received a post from France and from many countries.
Why do you think the world was so interested? 
Of course, in a time when most of the news is the depressing kind, this came as a neutral, scientific discovery. I believe it touched the child-like curiosity in people. Everybody wants to hear this story. And then they want to know, "Maybe is my rock also a meteorite?" I'm getting inquiries from all over the world, Venezuela, Poland, Czech Republic, Tunisia, all continents really. Nobody would have foreseen what happened to this story.