by Brenda Ortega – MEA Voice Editor
"Sara" never imagined she could fear a kindergarten student, but the paraeducator from an affluent, high-achieving school district in the eastern part of the state says she was traumatized by routinely being bitten, kicked, and punched by a five-year-old child in class.
The classroom aide, who asked not to be identified by her real name or school district, said she and others repeatedly asked school administrators for help and training to prevent and manage the student's difficult behavior—to no avail.

Instead, the boy's behavior escalated enough that he was removed from the room and returned to class 12 times before ultimately being referred to an "alternative setting" for students with emotional impairments and behavioral issues, Sara said.
"After the principal got bit, he was finally on board that something needed to be done," she said.
Violence against school employees is a problem experts say is under-reported and overlooked across the U.S., resulting in a wide range of costs: lost wages, medical and psychological care, increased workers' compensation claims, employee attrition, and incarceration of perpetrators.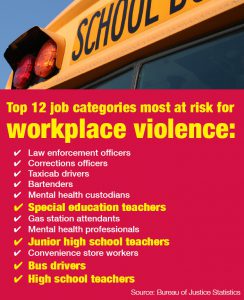 Little research has been conducted on the issue, but a 2012 study from the American Psychological Association (APA) labeled violence against educators "a silent national crisis" and "a growing phenomenon… that demands the immediate attention of researchers, school administrators, community leaders, and policymakers."
Although that clarion call has not been heeded, MEA is tackling the issue with a new School Violence Toolkit. Local union leaders can use the Toolkit's resources to educate members, bargain new language and policies into contracts, and help individuals affected by violence.
MEA is working with several prosecutors and sheriff's departments across the state on proper procedures for addressing problematic situations.
Teachers and education support professionals interviewed for this story agree the problem is growing and needs to be addressed. All of them requested anonymity because of student privacy concerns and fear of retribution from school district officials.
"It's happening across all classrooms," said one mid-career teacher who's taught in both general and special education settings. "I don't know if it's technology or the society and culture we live in, but kids are more angry and they have less ability to communicate why they're angry."
The APA study found up to 80 percent of American teachers are victimized each year—including harassment, property theft or damage, verbal threats, obscene gestures, and physical attacks. Attacks ranged from objects being thrown to assaults that resulted in injury.
Approximately 6 percent of K-12 teachers are physically attacked each year in schools. The National Center for Education Statistics reported that 473,000 nonfatal violent crimes were committed against America's educators in one five-year period.
One elementary special education teacher—"Mary"—said she struggled to handle a self-contained classroom of students with cognitive and physical impairments, developmental delays, and autism after the arrival of one young boy who had emotional instead of cognitive issues. He slapped and punched her "all the time," she said.
The boy's explosive temper caused him to knock over furniture and attempt to throw chairs, requiring Mary and her classroom aide to evacuate other students for their safety. Yet the veteran of more than 20 years said, "My administration is not supportive. We're left on our own."
She was considering filing a grievance against the district for failing to provide a safe work environment—specifically for not following stated policies that require administrators to follow up in writing with what actions were taken after a teacher files a formal report of violence.
"I don't want to be the teacher that's filing grievances, but I don't know what else to do," she said.
Mary says she continued to fill out incident reports, despite her principal's lack of follow-up, because she knows documentation is important. MEA staff agree—filing building and district reports helps individuals keep a record of what's happening and also can reveal larger patterns.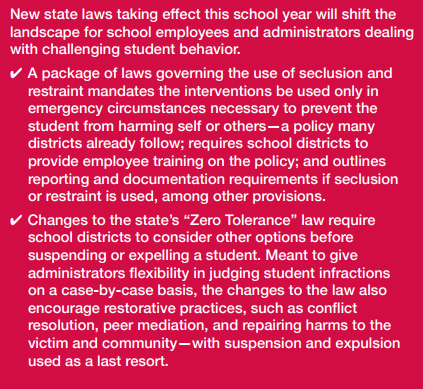 "If someone has been documenting every incident, then we have information we can take back to the principal and say 'We have a problem here,'" said MEA UniServ Director Deb Lotan, a Toolkit Trainer around the state. "Your (MEA) building rep is the first line of defense."
Many educators worry that reporting threats or physical attacks will result in negative evaluations or firing, one local leader said at a Toolkit training session. "People are afraid. If you call for help, the office says, 'Why are you calling me? What did you do to set Johnny off?'"
But MEA UniServ Director Jen Miller, one of the Toolkit's creators, countered: "As long as you're willing to quietly take it, they are more than happy to not protect you."
When building or district administrators fail to adequately respond to incidents of student aggression, victims can become isolated, Lotan said.
Lotan has been working with the staff in one school building where student behavior has become a problem, and an activity early in the process opened everyone's eyes. She had people write their school's biggest problems on a sticky note and then hang it where everyone could see.
Many of the answers related to student behavior in one way or another, Lotan said, "and when people stepped back, you could hear one message resonating around the room: 'OK, so it's not just me. I'm not alone.'"
Staff collaboration can help school districts develop quality plans to address student behavior, but a frequent complaint among educators is the lack of consistency and follow-through in how administrators handle discipline.
One local union leader in southwest Michigan said disruptive, aggressive student behavior and lack of administrative support are driving away new educators in hard-to-fill positions.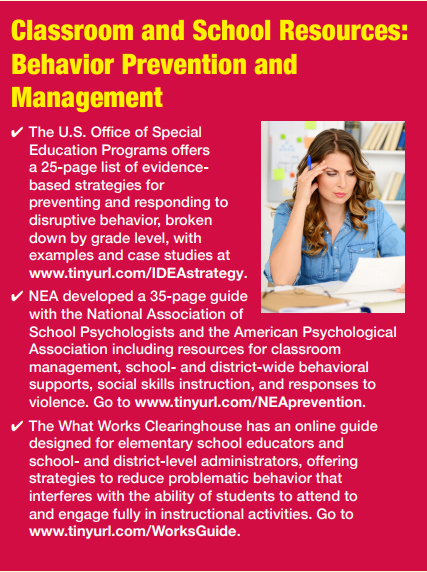 "If a teacher is unable to manage a very difficult classroom, they are told that they are ineffective," the teacher said. "For the past two years, we have burned out new teachers in the same high-needs math position. Last school year, two teachers quit because they simply couldn't make it to summer."
The greatest difficulty for all sides arises from the loss of school counselors and social workers to state funding cuts, says "Jennifer," a teacher of emotionally impaired students in a suburban Detroit district, who has dealt with challenging student behavior "in every way, shape or form."
Students exhibiting troublesome behavior in any setting at school often are coping with poverty, trauma, or dysfunction at home. They need services that teachers, paraeducators, secretaries and bus drivers aren't always equipped to provide, Jennifer says.
She recommends that educators and support staff work together to develop a crisis intervention team—volunteers that drop everything and respond when a student's behavior is out-of-control.
Ideally those people would be familiar with the student and able to take him or her to a quiet place to cool off, but they also would touch base with the child outside of crisis moments to establish a relationship, she said. The team would include or advise administrators.
"I try to get people to reframe how they're thinking about students, and not just see them for their behavior but to see them for who they are as people," Jennifer said. "We need to wrap them in support, and it really has to come from a place that we're all behind these kids."
According to research, those kinds of improvements happen when administrators and staff work together to establish a positive school climate, educators are supplied with quality training, and support from administrators is strong and consistent.
"The types of decisions and responses that administrators make are pivotal in preventive efforts and far-reaching with respect to teacher recruitment and retention," the APA noted in its 2012 report.