Jon Fielbrandt is a high school chemistry and math teacher in Warren. He's also a gun owner who thinks arming teachers is a bad idea, so he joined hundreds of MEA delegates to the spring Representative Assembly who delivered that message to state policymakers on Friday.
"What's at issue is the safety of students, and no matter what they offer – the training we would receive would not be near what the professionals receive to handle an active shooter," Fielbrandt said.
This year's spring RA fell on the 19th anniversary of the horrific Columbine school massacre, so during a break more than 400 delegates marched to the Capitol building and House and Senate offices to deliver petitions opposing guns in schools to all lawmakers and Gov. Rick Snyder.
"They've got to know something needs to be done for our students," said Wendy Nitzkorski, a math teacher in New Boston.
Marchers – many dressed in orange as a show of unity against gun violence – walked several blocks from the Lansing Center to deliver more than 17,000 petition signatures, joined by MEA's recommended candidate for governor, Gretchen Whitmer.
"As a mom of two kids in Michigan public schools, I'm worried about gun safety," Whitmer told reporters. "There are some thoughtful actions we could take quickly to make our students safer. It's time for action. No more talk, and no more phony solutions of putting more guns in schools."
Some Michigan lawmakers are pushing a measure to allow concealed weapons to be carried in schools and other gun-free zones. In addition, bills are in the works to allow school districts to keep guns in fingerprint-ID locked boxes to be accessed by trained school employees.
Those who signed the petitions against allowing guns in schools also had the option to suggest resources that schools need instead of weapons – an extension of the #ArmMeWith hashtag that trended on Twitter after the February mass shooting in Parkland, Fla.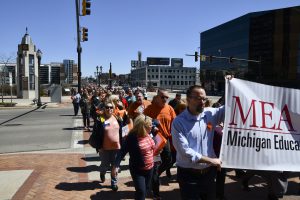 "A lot of schools don't even have a full-day counselor or social worker," said Annie Schave, a middle school life science teacher in Flat Rock. "Somebody is not always available to help kids who need help."
Robert Gaines III, a paraprofessional who is president of his ESP unit in Farmington, said money and time spent on mandated standardized testing and test prep could be better directed toward support services and engaging lessons.
"Educators and schools need to be able to freely educate and help students to live fully," Gaines said. "Arm teachers with the opportunity to be impactful on students' lives."
Amy Gish, an ELA teacher in Jackson County, participated in Friday's march one day after bullets struck two classrooms in Jackson High School during classes Thursday. One teacher was told she might have been hit if not for the bullet ricocheting off a window frame, she added.
Gish wants to see a stricter background check system for gun purchases and a ban on semi-automatic assault rifles. But she also sees the need for increased mental health services for children who have experienced trauma.
"I need eight years in medical school to do what I'm asked to do every day as a teacher," she said.
In an interesting coincidence, protesting MEA delegates bumped into documentary filmmaker Michael Moore at the Capitol, where he was filming for an upcoming project on the Flint water crisis. Moore won an Academy Award for his 2002 film on the Columbine school shooting.
Enveloped by the protest crowd for a group photo, Moore told educators, "Thank you for your service to the nation. Teachers rule!"
When asked about the idea of arming teachers to stop an active shooter, he replied, "That is the craziest idea anyone has come up with in a long time."