Saginaw Township Youth in Government students got an up-close view of a high-level political campaign when candidates for governor and lieutenant governor, Gretchen Whitmer and Garlin Gilchrist, stopped by—thanks to an MEA member who won the visit in a drawing last spring.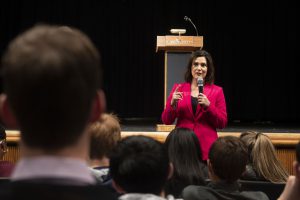 Given a chance to question the Democratic running mates on Tuesday, just one week shy of the Nov. 6 General Election, the middle and high school students asked smart questions on a wide variety of important issues, including crime, infrastructure, schools, and the environment.
"What is something you would like young people to get involved in researching and trying to improve the state?" one high schooler asked during a question-and-answer session with Michigan Youth in Government students at Heritage High School in Saginaw.
"Michigan is home to 21 percent of the world's fresh water, and our elected officials have failed to protect it," she said, pointing to the Flint water crisis and recent reports about a chemical known as PFAS contaminating water in several communities in the state.
"I don't know if you're interested in making Michigan a leader on water policy, water stewardship, taking on corporate threats to our water, holding corporations accountable and ensuring everyone has affordable, clean drinking water," Whitmer said. "That's something I am passionate about."
The campus tours and Q&A sessions at Saginaw Township Community Schools were part of Day One of a highly visible Whitmer-Gilchrist bus tour of Michigan that continues through Election Day with more than 70 stops planned.
Seventh grader Renee Crachiola used the opportunity to get some practical advice. She wanted to know the best strategy for convincing her fellow lawmakers to pass a plastic bag ban in a mock legislative process she's part of at White Pine Middle School.1
Whitmer explained that successful bills "speak to people's personal interests. So how do you make the bag ban personal?
"Start by talking about what this means for your children or grandchildren. Our future. The air we breathe. The water we drink. For a lot of people it's hard to understand how a plastic bag impacts quality of life on the planet, so that is a powerful connection to make as a legislator."
For her part, the youngster appreciated the advice but doubted whether politics was in her future. "I find it interesting that you've got to take on people's emotions to convince them about an issue," she said.
After students were dismissed from school, local union members from across the district gathered for a meet-and-greet event with the MEA-recommended candidates who promised to be leaders who listen to educators instead of taking orders from Betsy DeVos.
"A governor impacts our lives in profound ways every single day," Whitmer said. "From the water you turn on in the morning to brush your teeth, to the roads that you drive, and the schools where you work and our kids go to, and on and on. That's why this election is so important."
Art teacher Christina Mulford won the visit for her local association, and she noted a satisfying irony in seeing her entry picked in a drawing among all donations to MEA-PAC at the Representative Assembly last April.
In the envelope she submitted for the drawing, Mulford donated the amount she received in interest from the state's 3 percent payout to school employees who had their wages illegally seized for two years.
Whitmer's opponent in the race for governor – Republican Attorney General Bill Schuette – argued in court against MEA and against returning school employees' money for six years.
"It was fitting for my 3 percent interest to be the envelope that got picked in the drawing," Mulford said. "And it's definitely refreshing to see candidates who are so pro- public education."
School officials from Saginaw Township proudly showed off buildings and programming that is constantly evolving to help students prepare for successful lives after graduation in 21st Century jobs and skilled trades.
However, state funding cuts in recent years have stretched resources thin, Mulford said. "It's the poverty piece. We're fighting against poverty continuously."
Whitmer told the crowd gathered after school that MEA's recommendation meant the most of all of her endorsements, because she is the daughter and granddaughter of educators. "I know public education levels the playing field for young people in our state," she said.
Gilchrist also comes from a long line of teachers, and his wife is an educator in Detroit.
"I see educators every day, and they let me know how much equity needs to be part of our educational system," Gilchrist said. "That is one of the core values of this campaign, and I'm proud to be alongside Gretchen, and working with all of you, on this journey."