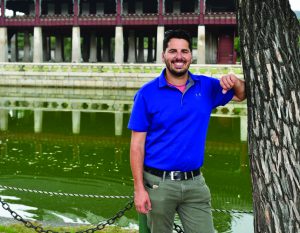 MEA member Matthew Cottone has traveled to six countries for (almost) free as he aims to help his students better experience the world. Now he wants to share how other educators can follow in his footsteps.
The Rochester World Studies teacher will be presenting at a Global Ed Conference at Oakland University on Oct. 19. The conference is open to educators of any subject or grade level who wish to learn how to bring a global mindset into the classroom.
Cottone applied for and won the opportunity to host the conference through Teachers for Global Classrooms, one of several fellowship programs he has participated in. Others include TEACH Bahrain, Korean War Legacy Foundation, NEA Global Fellowship in Peru,  Transatlantic Outreach Program in Germany, and Echoes and Reflections in Israel.
Other sessions at the conference will discuss how to take students on adventures using Skype and Google cardboard, in addition to an initiative in Illinois to create a Global Scholar Certificate to students who demonstrate global competence through coursework, service learning, global collaboration, and a summative capstone project.
Learn more and register for the conference at www.globaledconference.weebly.com.