Branwyn Jones has taught English at Michigan's oldest community college for nearly 30 years, but it wasn't until she and her colleagues joined MEA and negotiated their first contract that she says she earned her Ph.D. – in contract bargaining.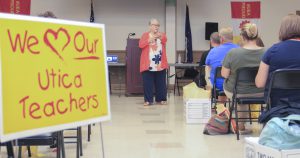 The Northwestern Michigan College instructor attended a recent Traverse City Listening Tour stop with two of MEA's new statewide officers. Jones told incoming President Paula Herbart the union provided invaluable expertise during 18 months of difficult talks following the faculty's vote to join MEA in 2015.
"We were in a bare-knuckle, bleeding brawl with our administration," Jones said of the long negotiating process, "and as a group we were very inexperienced and naïve. If not for the unbelievable support we received from MEA's team of experts, we never would have gotten this contract."
Several dozen MEA members and retirees have visited with Herbart, Vice President Chandra Madafferi, and incoming Secretary-Treasurer Brett Smith at recent listening tour events in Traverse City and Utica, two of many stops planned in coming weeks as the new leadership team seeks to chart a future course with member input.
Listening tour stops have been scheduled for September in Adrian, Saginaw, East Lansing, Waterford, Flint, Rochester, and Mt. Pleasant. Look here for tour dates near you, or to request a local event. 
Leland teacher and association president Keven Pershinske attended the Traverse City tour stop where he discussed the uneven and inadequate funding of schools, which he said is "hurting schools, hurting kids and families, and hurting the economy."
He said his local members are tapping a renewed sense of purpose as a looming teacher shortage threatens to take hold in Michigan. In recent years stagnating wages and lowered benefits, along with unwarranted criticism of educators, are driving people away from the profession.
"We're energized in terms of fighting back for our younger teachers," he said.
Being part of decision-making was the topic Glen Lake bus driver Barry Mazurek wanted to discuss in Traverse City. The president of his local transportation association said his members get frustrated when school administrators debate schedule changes without consulting drivers.
Starting the school day 15 minutes earlier might not seem a big deal to some school employees, he said, but for drivers it might be the difference between roads being plowed or snow-covered in the winter.
Thanks to his work lifting the voices of his fellow drivers, Mazurek maintains 100 percent membership in his unit, he said. "I tell them MEA has always got our backs."
At a tour stop in Utica, the officers and members talked for an hour about what inspires them to continue doing their job, despite the challenges faced by school employees – and what educators and their union can do together to help.
UEA member Lisa DiPirro shared a story about a parent who wrote a letter to her principal 20 years ago praising her efforts helping her child improve her reading skills.  It's a letter DePirro still keeps in her desk when she needs a boost on tough days.  Recently, that student – now grown with a child of her own – caught up with her on Facebook.
"The message she sent me wasn't about, 'Thank you for helping me read,'" DiPirro said. "It was, 'Thank you for believing in me and helping me feel good about myself at a time when I needed it the most.' It reminds me how much we make a difference in the lives of our students in so many ways."
The group also discussed frustrations with attacks on the teaching profession and the lack of respect for educators – including ways to push back when skeptics question why educators need to be compensated as professionals.  They also decried the "Hunger Games" mentality bred by new evaluation systems, while recognizing that the changes MEA helped advocate for recently in state law around evaluations helped significantly.
Herbart said she's proud to hear from members thankful for all MEA does to advocate for public education, but the new officers want to do more.
"We want to do more that really stretches what you think MEA can do – and stretches even what we think we can do," she said.
The officers are hearing the frustrations of educators asked to do more with less – coping with large class sizes while supplying their own resources and providing their own professional development. Meanwhile, pay and benefits have slid downward in the past several years.
"We need to honor the sacred commitment that educators have kept to their students, their districts, their state and country," Herbart said.
In addition to conducting the Listening Tour, MEA's new officers have been criss-crossing the state attending local union meetings, back-to-school events, and new employee orientations wherever they can – logging hundreds of miles in just a few weeks, even before their new jobs officially begin on Sept. 1.
"It's absolutely what I want to be doing right now," Smith said. "I'll go anywhere to talk with members."