For members attending MEA's Summer Leadership Conference this week in Sault Ste. Marie, the event's title is more than just a name – "leadership" is the central focus of this year's event designed to jumpstart the new school year.
More than 400 MEA members, local leaders and staff are gathered at Lake Superior State University for three days, attending sessions meant to help "Excite, Engage and Empower" those attending and, then, their colleagues back home.  That includes getting a chance to talk with potential state leaders at a meet-and-greet with gubernatorial candidates Tuesday evening.
Both keynote speaker Randy Fox and MEA President-Elect Paula Herbart challenged attendees of Tuesday's opening general session to be thoughtful about what it means to be a leader.
"For me, it's all about communication," said Herbart, who takes office as MEA's new president on Sept. 1.  "It's one thing to tell me and the other new officers there's an issue. But it's another to go out and have conversations with people about how to address that issue. To really listen and problem solve."
Fox, a nationally-renowned motivational speaker, spoke about his 5-year-old daughter coming home from school excited on days that she was appointed the "class leader" – a role that leads the class in line and other classroom activities and even comes along with a special sticker.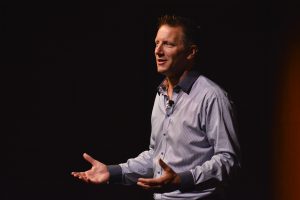 "Leadership is not about a title. It's about character. Character doesn't come from a business card. It's about influence," Fox said. "You can be a leader worth following, not because you get the sticker, but because your worthy of being followed."
He led the audience in a brainstorming session about important characteristics of leaders and told other engaging stories. Most importantly, he shared the appreciate people feel – but seldom verbalize – for school employees.
"Your jobs are so important. I have 3 children, so I appreciate what you do. I couldn't do it," Fox said. "There's not enough people who say thank you.  So, thank you."
Members talk education with candidates for Governor
Tuesday evening, at a reception hosted by MEA's Education Support Professional Caucus and MEA-PAC, members got to continue to focus on leadership – this time in talking with a bipartisan group of five candidates for Governor in next year's critical election.
"We wanted to provide our members a chance to meet the candidates, and for the candidates to hear first-hand from front-line education experts from across the state" Herbart said. "They need to hear what's really happening to develop their positions on what's best for our students and our schools."
All the declared and potential candidates from both major parties were invited; the bipartisan group five in attendance were Bill Cobbs, Abdul El-Sayed, Evan Space, Shri Thanedar, and Gretchen Whitmer.  For more than 90 minutes, they talked with steady streams of MEA members about the state of public education in Michigan and their positions on the key issues for school employees.