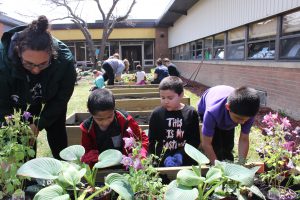 Aspiring educators from Michigan State University wanted to connect indoor and outdoor learning spaces with their annual Outreach to Teach service project, held this year at Willow Elementary School in Lansing.
Members and officers of MSU's Aspiring Educators of MEA (AEM) chapter painted a culinary classroom in bright colors and created a community garden and outdoor learning area in a previously abandoned courtyard in the center of the school.
Picnic tables, sitting benches that convert to seats with writing tables, and raised garden beds created a welcoming space in what was formerly an empty and unused grassy rectangular area surrounded by classrooms on one side and hallways on the others, said Monica Isza, MSU's AEM Vice President.
The volunteers from AEM added bright colors and artwork to the culinary room—a theme they pulled into all of the school's classrooms by donating small plants in decorated ceramic pots "to bring the outdoor learning space inside," Isza said.
Two of the five raised garden beds were filled with potting soil but left empty so the school's gardening club could plant vegetables and herbs for use in the newly redecorated culinary classroom. The future educators also donated a cookbook they wrote for culinary students to use.
In addition, the MSU students purchased school supplies and a gift for every teacher in the building.