By Brenda Ortega
MEA Voice Editor
When MEA members Hattie Maguire, Kristin Franchi, and Jodi Forster—along with Assistant Superintendent Dr. RJ Webber—started an innovative new class at Novi High School last fall, they expected to figure things out as they went.
They just didn't know how much they would learn—or how quickly.
The educators leading a new "Incubator" course­—combining product development and entrepreneurship—learned in mid-September of an exciting opportunity. Macy's department store wanted to partner with the class.
The retail giant was offering Novi students a chance to pitch ideas to a team of executives. One product might be chosen to be sold in the Market @ Macy's—a section of the store featuring limited-sale products and emerging brands.
The problem was the new class had only three weeks to prepare group presentations on five products from their own imaginations. Three weeks to create products, prepare a rough business plan including manufacturing costs, and design a pitch.
"Going in we didn't realize how big it was going to be," Maguire said. "Everything was happening so fast in the beginning of the school year—it was crazy."
Despite the strain, students from the class did not disappoint when dropped into a real-world equivalent of the television show Shark Tank. "That was hands-down one of my proudest moments as a teacher," Maguire said.
The Macy's executives were so impressed they picked two of the students' products to sell in the Market at Twelve Oaks Mall in Novi—one of 12 such "pop-up marketplaces" that exist in Macy's stores across the country.
The products chosen for launch were a set of mismatched socks, designed with colors and patterns allowing them to be worn together, called "On Purpose"; and "Quest," a social awareness brand of sweat-shirts, t-shirts and long-sleeved shirts.
Ten percent of Quest's proceeds will go to help fund a similar class in another school district, "so wearing Quest says that you promote students being innovative, creative, and thinking outside of the box," Franchi said.
The news was thrilling. Macy's even doubled its start-up investment, having originally offered $4,000 to get one product off the ground. The company now committed $8,000, along with $6,000 to create a makerspace and audio room with recording equipment.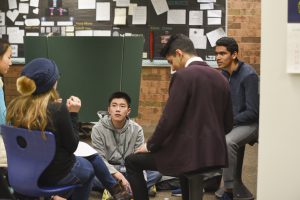 But the students' success also meant they would face additional pressures. Now working in two large groups, their task turned to figuring out how to manufacture, package, and deliver their products for a February launch date.
"We could have never come up with a case study of 'Pretend you're a businessperson' that had so many real-world experiences," said Franchi. "We didn't anticipate all of the things that would continuously come up that they had to problem-solve."
For example, the mismatched sock makers had to decide where to manufacture based on their budget. Students researched and called companies in the U.S. and China to ask questions.
"I remember thinking, I wonder how to make sure there's no child labor or bad business practices," said Maguire. "So I go over to raise that question with the group, sure I was about to throw them a giant loop. They just rolled their eyes like, 'It's all we argued about yesterday.'"
The stakes were high, students said. Senior Leon Chen said his team had to negotiate what custom touches they wanted in their Quest products and what could be sacrificed—without decreasing product value—to ensure the goods arrived in time for launch.
Zoe Ling said the experience confirmed her interest in becoming a business person someday, even after she discovered how challenging it was. "I had trouble adjusting to sudden changes, but that's something that happens in the business world so I have that experience now."
Time management became an important skill to develop, student Marina Ackerman said. "All of us took on big roles to get this project done, and we had to balance other classes, homework, sports and extra-curriculars."
Classmate Evan Wang had to pay attention to time zones to know when to call manufacturers with questions or directions. "You can't procrastinate in the business world, especially if you have partners and relationships. The moment something comes up, you have to work on it."
In addition, Macy's needed the students to determine pricing and draw up product display options, plus produce a training video for sales staff to know how to sell the products.
"We were kind of dropped in the corporate world head first," Maguire said, laughing. Fortunately, she added, "The kids knew what they wanted."
Snow and cold days off from school were harder to manage, the teachers said. The cold snap that led the governor to declare a state of emergency happened in the week before the ribbon-cutting and opening day of sales. School was closed for three days that week in Novi.
Meanwhile, hundreds of boxes of socks arrived at the school needing to be sorted, folded, and packaged. It turned into an after-hours labor of love, with family members pitching in, they said.
Not only did the fully packaged products make it to the store on time, they broke Market @ Macy's records—racking up $16,000 in sales in February. That includes $5,000 in profit, plus the original $8,000 in seed money, which returns to support the Incubator class in the future.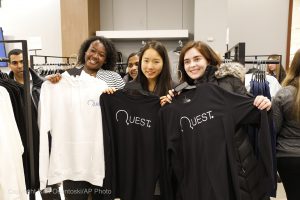 "It was truly a breathtaking moment when they cut the ribbon and people were picking things up and trying on sizes," Franchi said. "Everyone had a lot of tears."
Student Nisarg Dharia said that moment made him realize how much he'd learned in a few months. "Meeting the demands of entrepreneurship makes you think more critically on your feet, and that makes you more prepared for what's going to come in college and life beyond that."
The Macy's project dominated the first semester of the class, but it was not the only work that Incubator students were doing.
In addition to the group products, each student has been working on an individual "passion project." By March, a few were ready to apply for patents. Others were busily creating and producing. Some were making and testing prototypes.
Student projects include apps to help relatives monitor elderly patients taking medications; metal water bottles and massaging devices that use physics to stay hot or cold; podcasts on personal and political issues; a stress ball that uses light therapy to reduce anxiety; and more.
Maguire, an English teacher, and Franchi, a coding teacher, guide the students in the process of learning and discovery without having to know the answer to everything, they said.
Students are assigned an industry expert who can offer advice and feedback. Business teacher Jodi Forster helps connect students with mentors and monitor how it's going. So far it hasn't been difficult to plug students into resources, the teachers said.
"A lot of people in the outside world are eager to be a part of something like this," Franchi said. "It's all been volunteer, so some of the most powerful things the kids have exposure to are free."
The Incubator class has evolved since Webber first proposed a class to combine business and STEM concepts with a makerspace. Students broadened the vision to include development of music, writing, legislation.
"I appreciate the emphasis on innovation and valuing student voices," said student Chris Oshana, whose individual project has been to design a better case to hold retainers for teeth. "This gives us space to explore ourselves and to accomplish whatever we want to with our passion."
Before Macy's came along, the teachers planned to have students develop a "moon shot" project to work on together—a big-picture aim they will continue to refine as they learn what is possible.
Their next big goal is to spread the class to other, less advantaged school districts.
"Dr. Webber often says that ideas are equal, but opportunities are not," Franchi said. "If we can make the opportunities more equal, that's going to be our moonshot."
The students' creativity and accomplishments have exceeded any expectations, Webber said. "I am absolutely overjoyed with our incredible teachers who have launched the class with a fire and verve that makes me proud to be a public educator."