David McMahon Human Rights Award
During his second year teaching, Frank Burger spoke up in support of other new teachers facing unfair criticism from their district superintendent. After voicing his concerns at a school board meeting, colleagues encouraged him to run for an open seat as association vice-president. Burger won, and he's been a social justice advocate since. "I don't let fear rule me," he says.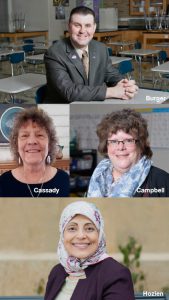 The president of Carman-Ainsworth Education Association, Burger now serves as the Male Co-Chair for NEA's Gay, Lesbian, Bisexual, and Transgender Caucus. He is part of NEA training cadres in Social Justice, LGBTQ Issues in Education, and Cultural Competency.
"I won't be treated like a second-class citizen," he says. "I'm a citizen of the United States of America, and I expect to have equal rights under the law."
Maurine Wyatt Feminist Award
When Jane Cassady began teaching in 1968, female educators couldn't wear pants. One woman served in the U.S. Senate. Since then, Cassady has joined in civil rights struggles including racial and LGBTQ equality, anti-war demonstrations, environmental justice, and women's rights.
Her defining moment came at the age of 18, during protest marches in Alabama that sometimes turned violent. "I was 18, and so naïve that I had no idea people could actually hate each other. It set me in a direction I was already going in, but it made the commitment that much deeper."
Cassady served as a school social worker in St. Clair Shores and MEA UniServ director in Local 1. Now retired, she continues fighting for justice and civil rights. "We are so far from being finished with all of these movements," she says. "I'll keep going as long as I have energy."
Anne Sullivan Education and Support of Persons with Disabilities Award
A simple philosophy has driven Mary Anne Campbell's work as an elementary special education teacher since 1982: "All kids are kids first," she says. "Some don't have a straight path to learning, but all kids can learn." According to colleagues, she lives that philosophy with contagious passion, heart, and positivity.
She organizes the Royal Oak school district's Disability Awareness Workshop—allowing general education students to experience learning and physical differences. She also mentors colleagues who draw on her years of expertise in teaching, managing severe behavior problems, and addressing the needs of students with cognitive impairments.
"I love working with kids and helping them succeed and grow and learn," she says.
Multicultural Education Award
Whether she's publishing research, presenting findings at a conference, or teaching educational leadership courses at Central Michigan University, Dr. Wafa Hozien infuses her work with individuals' compelling stories that bring to light the struggles and value of diversity.
Narratives are empowering, she says: "Social change begins with the educator creating a better world for all students."
Dr. Hozien has researched the public schooling experiences of Muslim girls and the leadership styles of African American principals. Her upcoming book focuses on under-represented students. She says, "As an educational leader you have to be able to talk about subtle discrimination, and you have to be an advocate for every student in your building."