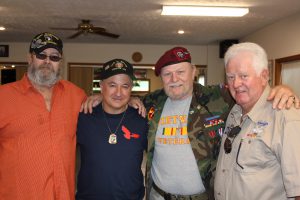 For 30 years, Charlotte High School history teacher John Moran has organized an annual event connecting his students to Vietnam veterans willing to share their stories of war. The roundtable discussions started in 1989 as a way to give these vets the homecoming they deserved.
"I felt they were treated badly when they came back, and I was going to do something about it," the history teacher said.
But as the survivors have aged, the event's purpose has changed.
This year's program, which included a taco dinner at the Charlotte VFW Hall on the Friday before Memorial Day, brought together a few dozen CHS students and about 20 veterans for face-to-face talks about what it was like to serve in Vietnam.
"It's crazy to think about all they went through, and I'll probably never understand it completely," said CHS senior Trenton Dowling, who recently joined the U.S. Navy.
Moran (pictured, far left, second from left) is referred to by students and veterans alike as "Johnny Mo." He teaches a popular elective class, "Lessons of the Vietnam War," and his students also undertake a number of service projects to benefit veterans groups and causes.
The students' extra-curricular efforts reflect how the purpose of the Vietnam Veterans Roundtable has evolved over the years, Moran said.
"It's primarily historical now," he said. "The veterans who've been coming all these years are pretty much healed. They're feeling honored. Now it's about passing the torch to the next generation."
Read the full story at www.tinyurl.com/CharlotteVets