For Hillsdale schools bus driver Sid Halley, this is a story of one kid and a whole lot of friends.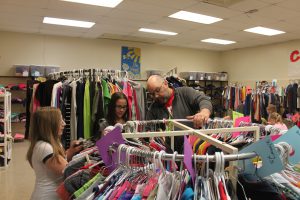 When one of Halley's driver colleagues noticed a student in need of new clothing last fall, word went out to the community. The response was so huge that a project was born.
The student took home some pants, shirts, and shoes—and returned to school "walking around like he had on a king's clothes," said Halley (pictured, left). Meanwhile, the flood of clothing and other donations in response to the child's plight led to the reopening of a long-shuttered used clothing store at Hillsdale's Davis Middle School, known as "Davis Closet."
The converted classroom looks like a booming thrift shop. Students receive "Davis Bucks" to spend when the store is open on Fridays during lunch, but any student with a need will see it filled regardless of whether they have the pretend money or not.
"There's no stigma; they come in here and buy whatever they want, and it gives them a good feeling to buy their own stuff," said Lora Glei-Dietz, the special education teacher whose Facebook post in November led to the deluge of donations.
Glei-Dietz, who works with students who have mild cognitive impairments, wrote grants to buy shelves, socks and personal hygiene items. Racks were donated. It's a team effort, she said.
Her classroom aide, Gloria Jones, helps run the store. Students from her self-contained classroom assist with laundry and sorting. Bus drivers transport bins of goods to other schools, and the school's custodian does whatever is needed. A retired teacher, Betty Griffiths, volunteers.
On one Friday last spring, students flowed in and out of the store digging through pants, shorts, and shirts—trying them on in a fitting room built by a parent and coming out to model for friends. Jones acts as a personal shopper, picking items and encouraging kids to try them on.
"Come on, put a little bling in your life!" Jones declared to a girl unsure about the brightly colored shirt she was looking at.
Everyone associated with the store has touching stories to tell—of kids changing into newly purchased clothes after buying them, students getting name-brand shoes and wearing them every day, of children's happiness at discarding ill-fitting clothes for comfortable ones.
"It's heartwarming to get a crazy idea and have people give and keep on giving," Glei-Dietz said.