By Brenda Ortega/ MEA Voice Editor
As far as he knows, he's the only in-house band and orchestra instrument repair technician employed by a public school district in Michigan, and he's second generation—his dad held the job at GRPS before him.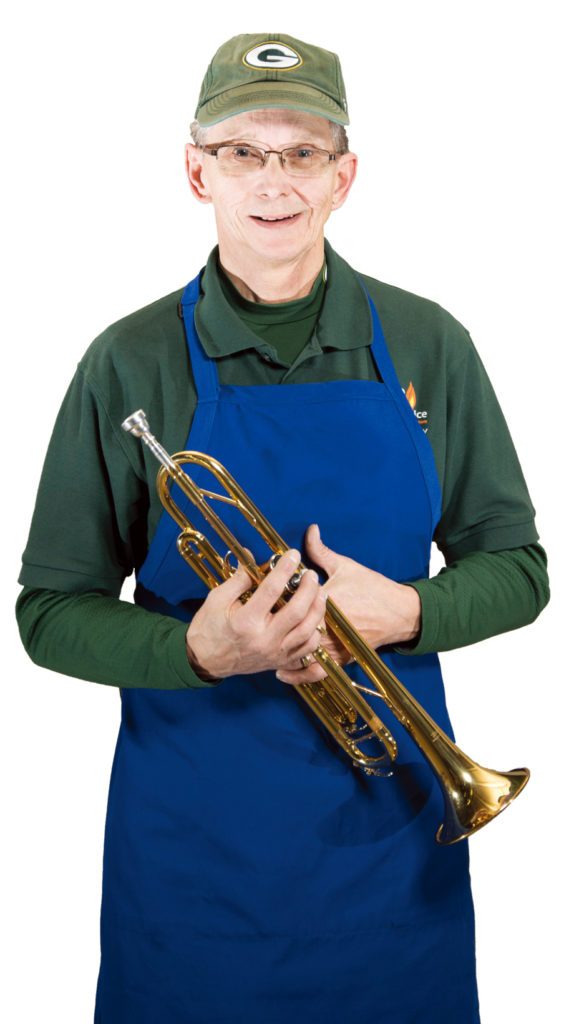 What does your job involve doing every day?
Depending on what comes in, it could be soldering, re-padding instruments, replacing drum heads, restringing violins. They call me the MacGyver out here, because when one of the trucks needs something done, they say, "Hey, can you help me with this or see if there's a way we can reattach this part?" Which goes back to my upbringing. My dad was very handy. There wasn't much of anything he would not try to do, and I just kind of followed him and helped him and started learning how to use power tools and measuring and doing things like this.
So you do other work besides repairing instruments?
Oh, sure. You never know what's going to come up. I always say I'm a jack of all trades, master of none. I punch in in the morning, and I say, "What do you want me to do? You want me to sweep the floors, fix instruments, put up bulk orders, help deliver, change light bulbs?" Whatever has to be done—we're just a small group, and we're trying to keep this district going.
Can you take any instrument and diagnose it?
Yes. We have a unique situation here in Grand Rapids Public; if you want to play in band, we supply the instrument. There's no cost to the student, so that doesn't stop anyone from being able to join. We have an inventory here of over 3,000 instruments, and most of them are 40 years old. I don't get into overhauls. I don't have the time or the tools to—say—take the bottom bow off the tuba. They're forever getting dented, but if it doesn't impede the playing—that's kind of what we go with. We put them back in playing condition.
What's the hardest or most unusual part of your job?
I would say it would be fixing a double-reed instrument, like an oboe or a bassoon. I played cornet in high school, and I pretty much self-taught myself to play every instrument enough to know that it plays. I'm not proficient. I'm not going to go out and play trombone in a band, but I've learned how to play a chromatic scale or whatever uses all the different keys or all the combinations to see if it's playing or not. If it isn't, then you go back through it again and check for leaky pads or a bent key—maybe it's not closing properly or whatever.
Your dad held this job at GRPS before you. Prior to that, you and your dad worked at a music store where you learned to repair instruments. How was it following in his footsteps?
People used to call me "Little Jack"—that was his name… At Meyer Music, I had my dad as kind of a teacher to show me things or he'd say, "You might want to come over and try this." But it's kind of funny—I came into [this GRPS job] before he retired. I came in the end of May, and he retired the end of June in 1995, so we had a month to work together, and I sometimes did things differently. He said, 'I've worked alone for so long, I think there's only one way to do things, and you showed me there's more than one way." So it was kind of like he showed me in the beginning, and I showed him toward the end. The student teaching the teacher, if you will.
What's the most satisfying part of your job?
My band directors are really good about when I go out to a school to drop something off or pick something up, probably 95 percent of them will stop what they're doing and say, 'Hey, by the way guys—when your instrument breaks and you send it in on Monday, and Wednesday it's back and playing, this is the guy that's doing it.' I'm more of a behind-the-scenes guy; I just kind of stay back and do my thing in my little hole here, but that's very satisfying that the directors feel that way. And I have gotten cards and letters from students in interschool mail saying thank you very much for all you do for us kids. We hope you stay forever.