Amanda Young, a special education teacher from Bay-Arenac Intermediate School District, is the first of four MEA member winners of the MiDREAM contest sponsored by the MSU Federal Credit Union and MEA Financial Services.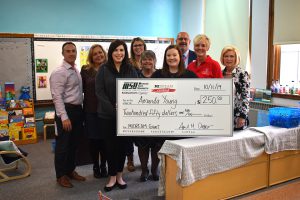 For being selected, Young receives $250 for herself and an addition $250 for a charity of her choice, Area 9 Special Olympics.
"It's our local Special Olympics, and it's very near to my heart as I coach for the Young Athletes Program and many of my students participate in the summer games," Young said. "They are very deserving of the money for all they do for our community."
Young applied for the grant to purchase books for her school. "We are starting a lending library for our special education preschool classrooms to improve early literacy skills," she wrote in her entry form.
Three more winners will be selected this school year. Any MEA member is eligible to enter; the next contest entry period runs from Oct. 1 through Dec. 13. Click on this link to download the entry form and mailing information, or email Michelle Shipman at mshipman@mea.org to request an entry form.
The MiDREAM contest is a first-time grant partnership between MEA Financial Services and MSU Financial Credit Union.
"MSUFCU and MEA Financial Services share similar visions of quality member benefits and a commitment to education, so it is exciting to see this partnership result in such a worthy outcome," said Bruce Reaume, executive director of MEA-FS.