Educators give freely of themselves – to planning and grading; to connecting with students and parents; to volunteering for school activities, committees, and projects. Too often, they sacrifice family time to get it all done – and their own children and spouses pay the price.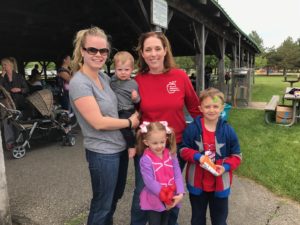 Leaders in the Warren Education Association wanted to give back to members with an end-of-year event – and decided to offer what educators need most.
"We wanted to give them some of their family time back, but not at a cost," said WEA Vice President Lisa Sikoski.
The recent WEA Family Day attracted more than 300 members and their families to a day in the park featuring a dizzying array of food, fun, and music – highlighted by a concert of the kid-friendly "punk rock" of Miss Paula and the Candy Bandits.
The usual munchies of hot dogs and chips were supplemented with cotton candy, pixie sticks, and candy bracelets. Wally's Frozen Custard was served out of a fire truck. Kids could burn off the sugar in a moon walk or obstacle course bounce house.
Clowns painted faces, artists made balloon animals, and people played dress-up in a photo booth adorned with props. A petting zoo allowed children to feed the animals and ride the ponies.
"I heard kids saying this was the best day ever," Sikoski said. "They couldn't believe they didn't have to wear wristbands or anything – it was all free."
The event was paid for with grant money from MEA's Building Full Capacity Locals (BFCL) program – a goal of which is to help local associations grow and strengthen.