MEA today unveiled a new "Ask Me" video highlighting the determination of early career educators to pursue their passions and make a difference in the lives of students, despite current challenges facing Michigan educators.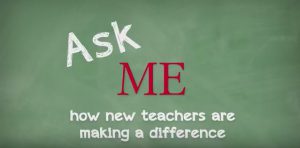 "We go into teaching because our heart is into it," said Sygnett Swann, a Kalamazoo 2nd year math teacher featured in the video. "You give your heart and your soul every day – and it's worth it."
The video features MEA members who are in their first three years of teaching or who are preparing to become teachers. The video tells the stories of why these young teachers chose their profession and how they plan to make a difference in the lives of their students. The teachers also discuss challenges they faced and how they overcame adversity in pursuit of their calling.
"We're facing a teacher shortage nationally and in Michigan, so it's more important than ever that we listen to the voices of young professionals entering the field," said MEA President Paula Herbart. "Our newest educators deserve respect, support and admiration for their service to Michigan's students and our future."
The new educator video and other spots in the "Ask Me" series can be viewed at www.askmeamembers.com. These MEA videos illustrate the important roles school employees play as the front-line experts in public education who care deeply about the success of every student.
Last month, an MEA "Ask Me" video spotlighted the important work of school support staff – the "unsung heroes" who make everything run smoothly.