President Trump's decision to rescind the Deferred Action for Childhood Arrivals (DACA) program affects students and young people – including educators – who work and learn in our nation's classrooms and colleges.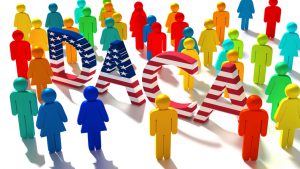 NEA has gathered resources to help our members understand the implications of Trump's decision and take action in defense of DACA, including this FAQ page for NEA members who hold DACA status or have DACA students in their classes.
For the past five years, the DACA program proved to be an unqualified success, providing new opportunities and futures for nearly 800,000 Dreamers who live, study, and work in America. The termination of this program impacts not only students and educators, but also small business owners, healthcare workers, and so many others contributing to their families, communities, and to the country they call home.
To find ways to get involved, visit NEA's "Three Ways You Can Help" page  which includes a link for contacting members of Congress; and the Take Action page where you'll find tips for helping concerned students and connecting these current events to curriculum.
If you're interested in receiving social justice alerts from NEA, sign up for the NEA EdJustice email with links to resources and actions at NEAEdJustice.org.
To find upcoming DACA-related actions scheduled near you, go to WeAreHereToStay.org and look for the interactive map.