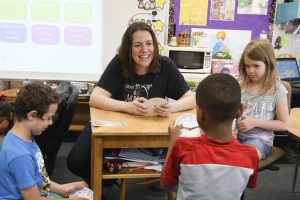 After 18 years as an educator, Michigan's newest Teacher of the Year is guided by a big-picture view of her role encompassed in three priorities. "We've got to keep the big things big," said Laura Chang, a second grade teacher at Sunset Lake Elementary School in Vicksburg, who assumed the state's top teacher mantle in May.
"It's easy to fall into the pressure of the race and the rush," Chang said. "Sometimes we just need to take a breath and realize it's OK if I don't get through all of the content. It's OK. I'm going to look at my kids' data and start where they are and move forward from there."
Her first priority is to create kind, contributing members of the community who know how to lead and collaborate. The class sets academic and behavioral goals and monitors progress, "and if we fall short, we examine that as a group," she said.
The Sunset Lake staff just finished the second year of implementing the "Leader in Me" model, based on the work of Stephen Covey in his best-selling book, The Seven Habits of Highly Effective People. The initiative aims to equip students as 21st-Century leaders.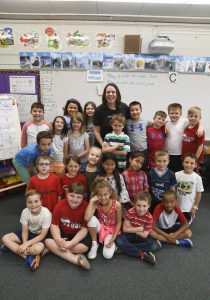 Five years ago, Sunset Lake was labeled a "Focus School" by the state, one step above the most struggling "priority" status. Three years of work in shifting the school's culture and getting everyone pulling in the same direction has paid off with improved student achievement.
Chang plays an integral role on the team leading change in the building, and she works as the district's technology integration leader, but most importantly she inspires others as a joyful educator who "serves from the heart," according to Principal Amie McCaw.
Chang's second priority is to inspire kids to be lifelong learners by making lessons fun, exciting, hands-on, and relevant, she said. "It's so important that students understand the 'why' and the big picture of what we're learning and how it will help them later in their life."
Empowering students to stand up for one another is her third priority. Children in her class role-play scenarios for how to respond if a schoolmate is being mistreated. "Kids don't always learn those socio-emotional lessons at home, and it's so important to creating a community."
Mistakes are celebrated, Chang said. "We always say, 'Mistakes are expected, inspected and respected.' Building classroom community is the most important thing we do."