By Brenda Ortega/ MEA Voice Editor
Years ago when MEA member Pamela Nickelson first started using body movement to help children learn and remember concepts in her classroom, the East Lansing music teacher was simply following her instincts.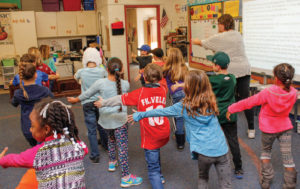 "I'm a mover, so it's always been a natural part of my classroom," she said. "When I taught sixth grade, I would put on a John Philip Sousa march and make my sixth graders march around the room before we did a math class. They did better."
Now a 40-year classroom veteran, Nickelson continues to incorporate movement with her students every day because brain research shows how important and effective it is. Numerous studies have shown a clear connection between movement and cognition.
"It gives you peace, it helps you focus, and it makes you productive," Nickelson said.
The mind-body connection, once relegated to hypothesis, has become grounded in the hard data of neuroscientific research, according to Erik Jensen, author of Teaching with the Brain in Mind.
Movement improves learning and retention by stimulating neural networks, increasing blood flow, and improving energy, mood, and motivation, Jensen says. In a 2003 study, dyslexic students exposed to a regular movement program made substantial gains in standardized test scores over a control group.
"Schools that do not implement a solid physical activity program are shortchanging student brains and their potential for academic performance," Jensen wrote in his book. "Movement activities should become as important as so-called 'book work.'"
Because specific types of movements have been shown to improve focus or to calm an overactive child, Nickelson starts her music classes at Marble Elementary School with those types of warmups, which take only three minutes but pay off in a big way, she says.
The kids say it's fun or relaxing or simply "feels good." But classroom teachers report back to Nickelson they often see students doing the focusing movements on their own just before a test is administered. Those brain-centered warmups can be searched on the web, including ear rubs, cross crawls, and hook-ups.
Cross-lateral exercises, such as marching in place while touching elbows to opposite knees, force the two hemispheres of the brain to talk with each other and build neural pathways for motor and cognitive skills.
Tracing the infinity symbol (like a number 8 lying down) has a similar effect. Nickelson uses it to teach letters and numbers to a low-skill student she's working with one-on-one before school every morning. The letters and numbers are charted on the symbol in ways that force the student's eyes and hands to trace its shape in the correct pattern.
"It's miraculous stuff with the kids," she said.
Nickelson is such a believer that she won a grant to present regular assemblies featuring developmental and brain-stimulating activities to students in all East Lansing schools on a rotating basis for the past two years. Next she's hoping to secure funding to bring professional development to staff members who want to try it every day in their classes, she said.
"I did a little bit of it in a session at tech camp this summer, and 17 people showed up," she said.
It's not just for young children, she added. "This is for high school. If your high school students are bored or tired, do some warmups in the first three minutes of class and they'll be all ready to go."
Her understanding and teaching practice grew as Nickelson pursued trainings and conferences in Germany's Orff Schulwerk method of learning through movement, and the Brain Gym® program. In her classroom, activity is synonymous with focus and discovery.
Nickelson also has been mentored in her understanding of how to apply specific movements to particular goals by MEA-Retired member Opal Wong, who used to teach down the hall and now works as an educational kinesiology consultant helping struggling students one-on-one.
"Movement unlocks learning and achievement, but so many people just haven't connected the dots on it to really understand," Wong said. "For example, rhythms and patterns especially are related to math, because the same neural pathways are involved."
Another Marble Elementary colleague mentored by Wong over the past 20 years still uses the techniques daily. MEA member Kerry Sung, who teaches kindergarten, said movement helps calm and focus her students, and combining rhymes and rhythms helps cement difficult concepts in young minds.
"They need so much movement; they don't have recess until 11:30, and it's been proven to help them learn better," Sung said.
It's ironic, Wong and Nickelson agreed, that as science has established links between movement and brain function, many schools have cut music, art, and physical education to cope with falling revenues and increasing academic standards.
Additional pressure to keep children in seats, not talking or moving, comes from the over-emphasis of standardized test scores on school and teacher evaluations, Nickelson said. None of it changes Nickelson's mind about the importance of what she's doing.
"I don't care how hokey it sounds—I make a difference. I touch lives. If the politicians want to tell me I'm not worth a highly effective rating? I would ask them: How many politicians get letters saying, 'You changed my life forever?'"