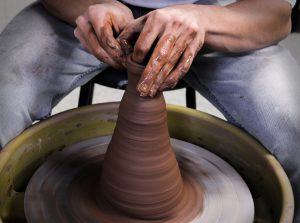 In 2011, a Stevenson High School student looking out of his physics classroom window saw potential in a dilapidated structure and started a club to rehabilitate the Livonia school's long-neglected greenhouse. Although he graduated, the club continues.
The 1965 structure has not been used on a daily basis for more than 20 years. The district has been hesitant to allocate funds to refurbish such a building, so its rehabilitation is a student- and staff-led project. The club sponsor is Livonia Education Association member Karen Dillon.
Over seven years, she worked with students to remove more than 20 bags of garbage, recondition the gravel floor, lay down a weed barrier, and replace windows. Karen wants the greenhouse to be used as a lab for biology or ecology to give students more direct exposure to nature.
"Allowing students to propagate or grow plants from seed is both fun and transformative," she said. "They see how an organism is affected by its environment—including sunlight, water, and soil type—and I hope that realization encourages an attitude of stewardship for the earth."
Karen found a creative funding source: she asked art students to paint store-bought flower pots to sell. Ceramics student and high school senior Brian Olenczuk took the plan a step further.
As an independent study student, Brian spent several hours a day on the pottery wheel and wanted to give back to his school, so he began throwing terra cotta pots for the project.
Club members planted a small succulent in each of several hundred pots Brian made, and they began to sell. His handmade creations proved popular.
Many teachers go above and beyond every day, but Karen Dillon is an inspiration to everyone. She is trying to utilize all available resources for students, and with a team of willing and able volunteers has planted a seed of hope for the rebirth of the Stevenson Greenhouse.