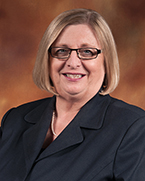 MEA Executive Director Gretchen Dziadosz may be retiring later this month, but she prefers to look ahead to the union's future—and after 38 years working in a variety of MEA positions, perhaps no one is better positioned to give a read-out on the crystal ball.
Appointed to the union's top staff post in 2012, Dziadosz has steered the MEA ship through stormy seas. But she sees a course to chart for brighter days ahead.
After several years of pay cuts and step freezes, we're seeing contracts with 2 and 3 percent increases and steps restored, she said. To maintain momentum, the previously cut position of Statewide Bargaining Consultant has been restored by repurposing a vacancy after a retirement.
"We have to be creative and energized at local bargaining tables, and we should be bargaining over professional issues to improve our members' work lives and our students' futures."
Advocacy will still be important through grievances and legal action—our recent victory in the 3 percent case is an example—but activism will take on a bigger role at the local level as educators demand a voice, influencing administrators, school boards, and communities in the process.
"When our members do this, we're all reminded of the strength and power of working together, in unity, fighting for what's right," Dziadosz said.
She points out the relationship between MEA and AFT Michigan has never been stronger, particularly in the area of lobbying, and the Legislature is perhaps the most important arena where school employees from across the state join forces to target issues.
"Our staff lobbyists—and the many members who've helped them with contacts, calls, emails, letters, and volunteer teams of lobbyists—together have stopped more bad things from happening that I can count," she said.
Now in an election year, political action will be crucial, Dziadosz added. "Donating to MEA-PAC, volunteering for campaigns, voting for candidates who support public education—we all have a role to play in building our collective strength to bring positive change to the system."
It's all about organizing, Dziadosz believes. Unifying people to effect change lies at the root of our history and the core of our everyday work as a union. "Our members are more respected and powerful than they realize. I hope they don't ever forget that."
Dziadosz joined MEA in 1979, serving as a field representative, UniServ director, statewide bargaining consultant, and zone director, among other roles. She holds a bachelor's degree from Michigan State University, and master's and doctorate degrees from University of Wisconsin.
The daughter of teachers, she says she did not have the talent or temperament to be a K-12 educator. After a brief stint teaching at UW-Madison, she took a job at MEA organizing support staff. Eventually she found a passion for bargaining, because it helped educators and students.
"It's rewarding for employees to have an equal footing with management and sit down for a strong give-and-take about what's in everybody's best interests," she said.
The future will be in building a culture of change—showing members they are the union and encouraging their involvement because "at the end of the day, it's all about empowerment."
---
Shoudy Named New Exec
MEA General Counsel Mike Shoudy has been named the union's new executive director. Prior to joining MEA in 2014, Shoudy spent 14 years as an attorney and shareholder at the White Schneider law firm, where he represented MEA and its members in a variety of legal matters.