One cool thing lead to another for MEA member Shawn Murphy and his National Honor Society students when he was planning the group's biannual trip to Chicago.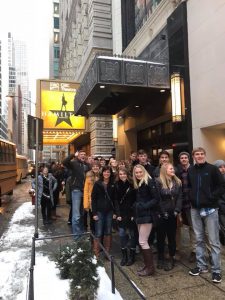 The health and history teacher from McBain Rural Agricultural School in northern central Michigan heard about a competitive program that gives students from Title I schools affordable tickets to see the hit Broadway show Hamilton in Chicago and other U.S. cities. So he applied.
"I figured we might have a one-in-a-million shot at getting accepted, and the next thing you know – we got accepted," Murphy said.
Before releasing the $10 tickets, the sponsoring philanthropic Gilder Lehrman Institute of American History required his students to conduct research and write an original piece – rap, song, scene, story, poem – to show understanding of the historical setting and figures depicted in the play.
Students also created videos of their work and voted on the best one to submit to Gilder Lehrman for a performance competition among the 10 school groups attending the matinee last Wednesday. The McBain video entry was one of the winners.
That meant three of Murphy's students got to perform their rap on the Hamilton stage right before the show.
"The student performances were pretty spectacular," Murphy said. "It never ceases to amaze me just how talented many of our students are. In the classroom you only get to see a small glimpse into what they are capable of."
The rap by junior Emma Barton, backed up by two senior classmates, was about James Madison – "the man, Mr. Maddy." The students were terribly nervous to perform in front of 2,000 other high schoolers, but Emma concluded it was a great learning experience, Murphy said.
Tickets to the touring production of the smash Broadway hit typically sell for $150-600. The show brings current musical styles and genres to the story of Alexander Hamilton and his unlikely political rise in the founding and building of America.
Murphy's students also saw a Chicago Blackhawks hockey game and did other sight-seeing during the three-day trip by chartered bus, but it's hard to top the thrill of getting tickets to see the hottest show in town.
The students got to meet the cast, have lunch with them, and ask questions, Murphy said.
"The entire trip was awesome, but I would have to say that the highlight was definitely Hamilton," Murphy said. "The energy and the theatrics were amazing, and many of the students are still talking about it, even a week later."