By Brenda Ortega
MEA Voice Editor
MEA member Amy McLoughlin didn't like school when she was young.
Growing up in rural Ohio, she was "that kid in the back of the room interrupting the flow," voted class clown, a bright girl disengaged, she says. In high school, she skipped a lot but showed up for soccer and socializing.
"I didn't like the typical classroom setting," McLoughlin said. "I was always fighting back against this idea that I'm dumb because of a grade someone gave me. I think I always knew this 'C' or this 'D' doesn't reflect who I am."
Her journey from difficult student to high school counselor led McLoughlin several years ago to adopt an authentic approach to "restorative justice"—based on Native American traditions of peacemaking—a cause that grew into a passion even before it became the focus of a state law enacted last year.
Now the 46-year-old finds herself serving as a model for others at a time when the law newly requires Michigan school districts to seek alternatives to zero tolerance discipline policies and other punitive methods of addressing challenging student behaviors.
"This work has reinvigorated me," she said. "It's been transformational for me to see I'd been working so hard when I could have been working smarter."
Student leadership is the secret ingredient in the program McLoughlin built at Skyline High School in Ann Arbor. Juniors and seniors chosen to be on the Skysquad restorative justice team mentor struggling freshmen and run conflict mediation circles without an adult in the room following extensive training and practice.
"We have students in our schools that are really intelligent and savvy in understanding the culture and climate of a building," she said. "It's been magical at Skyline with Skysquad, because students are going to listen to other students."
Learn more about Skysquad from four student members of the team.
Restorative justice in schools emerged in the 1990s as an alternative to punitive discipline methods, such as suspension and expulsion, which disproportionately affect students of color and have been correlated with increased high school dropout rates and the school-to-prison pipeline.
The Restorative Justice Law, which passed in Michigan in 2016 and went into effect last fall, mandates that schools adopt Positive Behavior Interventions and Supports (PBIS) and consider restorative justice as a first-line solution to behavior problems.
This shift focuses on resolving conflicts, repairing harm, and healing relationships instead of merely punishing rules infractions. The approach has proven effective for schools with a variety of demographics and disciplinary problems, according to Bill Sower, a certified Michigan schools trainer in restorative practices.
"Out-of-school suspension rewards misbehavior for students who don't want to be in school," said Sower, who helped South Lyon Community Schools launch the first restorative practices program in Michigan in 2001. "In-school suspension promotes the growth of negative subcultures which disrupt the whole school climate. Restorative practices is a credible alternative."
School districts employ a variety of restorative practices, but for McLoughlin the keys to success include meaningful student involvement, relationship-building, and high-quality training—growing from belief in the underlying philosophy and awareness of local needs.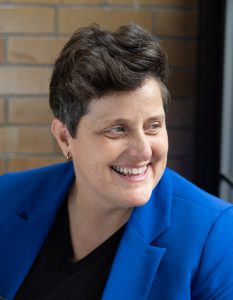 "Like everything else, there's so much pressure to do restorative justice, do literacy, do this and do that," McLoughlin said. "Sometimes people want to look for a packaged program that will just give them an end result, but you have to keep the heart and the soul in it to do it well."
The "heart and soul" of Skysquad derives from Native American peacemaking traditions that have strengthened communities for generations, she says. Students who are trained to lead circles respect their place in a lineage that includes tribal nations and influential leaders such as former South African President Nelson Mandela.
"If you help students understand that people can work together and care about each other even when they mess up, and we don't have to kick them out, that's a game changer," McLoughlin said. "Then they see this person that has wronged them as still part of their tribe, that we can disagree, I can be terrible, I can say I'm sorry, I can own my behavior and move forward."
Ninth-grade mentoring works in tandem with conflict mediation circles to prevent problems and nurture a positive school climate. To make a few mentors available when issues arise throughout the day, Skysquad was given space in the counseling office and assigned class credit.
"I say whoever is effective, let them do the work," McLoughlin said. "Ninth graders don't have a sense of connectedness yet. They're having trouble finding a peer group and figuring out where they fit in. They don't feel smart; they don't feel like they can do the work.
"All of those things can easily, easily be repaired with a mentor with the right training, so my work now isn't the direct line to all of those ninth graders; my work becomes this cohort of students that is the frontlines."
In its first five years of operation, Skysquad conducted more than 260 circles with a 96 percent resolution rate. The most common topics of conflict involve friendship misunderstandings; classroom tensions; racism, sexism and homophobia; and miscommunication.
Use these resources to learn more about incorporating restorative practices in schools.
"Especially in our national climate now, the things that this addresses like nothing else are racism, homophobia, sexism," said McLoughlin, who is openly gay and legally married to her wife since 2015.
One sophomore boy participated in a circle after posting a picture of a burning swastika from the satirical television show South Park on the computer screens in his classroom one day—never thinking that his friend in class was Jewish. The boys worked it out with Skysquad's help.
Afterward, he stopped to talk with McLoughlin who had been standing outside the door—not privy to the student-led circle. "He started crying, and he said, 'I hope you don't think that's who I am. That is not who I want to be. It will never happen again. I am changed because of this moment.'
"That's how he talked. I'm not putting that in adult words. He was forever changed, because instead of punishing and ostracizing that 14-year-old who did something really dumb, we brought him back into his community, gave him a chance to be better. And honestly, I can tell you hundreds of stories like that."
McLoughlin started the program in 2013 with the support of Skyline Principal Cory McElmeel and circles training from the county's Dispute Resolution Center. At first she juggled Skysquad with a full counseling load, but the improved building climate and reduced behavior referrals eventually led McElmeel to turn the program into her half-time role.
She supplemented the program as needs arose. Increasing numbers of students struggling with depression and anxiety led her to a University of Michigan program—TRAILS—which is building a statewide network of coaches trained in cognitive behavioral therapy and mindfulness.
Counselors at all Ann Arbor schools received training and resources from TRAILS to help students learn strategies for coping with depression and anxiety.
Before launching Skysquad, McLoughlin had begun to question how long she could maintain the pace. "I used to walk into my job and think, All right. Here's my 300 kids, and I've got to make sure they're all OK. And you can't do it. You feel like a failure all day long."
Now she additionally serves with a cohort of teachers and counselors in a group known as Justice Leaders, run through the Washtenaw Intermediate School District, which helps educators examine their biases and how they manifest in the classroom.
The Justice Leaders are looking at ways to help educators across the county extend that work to students. McLoughlin will pilot a program to teach students how to do bias and cultural competency training with other students in her brand new role in Ann Arbor Public Schools.
This fall she made a tough decision to transfer within the district to an open counseling position at Community High School, drawn by the non-traditional aspects of the small, diverse alternative school nestled in the city's downtown.
She is continuing to facilitate Skysquad through the transition this school year, while starting to build a restorative justice program in her new building.
"This can be replicated in almost every school if you have students that you trust and you give them the skills they need," she said, noting that restorative practices work well at all grade levels, with students taking on more leadership as they get older.
Recently she accompanied four Skysquad students who presented about their work at a conference of the International Institute for Restorative Practices in Detroit—attended by professionals from all over the world.
No matter where she goes, McLoughlin still feels connected to her younger self and a turning point in tenth grade that would ultimately lead to her career—when she walked out of English class to the dean's office to protest a lack of female poets in the curriculum.
All of the adults she encountered were dismissive, she says, and she thought to herself, If I was in that job—I would get it.
"I always remember that with my students, that they're coming out of their class for a reason, and a lot of times they're just angry about something. How do we take that passion and that fire and do something cool with it?"