MEA is strongly opposing a bill that would attach A-F letter grades to schools – a move that would only serve to worsen the current over-emphasis on standardized test scores and slap stigmatizing labels on schools in high-need communities.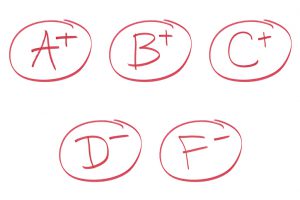 Schools with high concentrations of poverty, English language learners, and special education students require additional supports – not labels. Letter grades won't help schools better meet student needs. Labels do not lower class sizes, hire additional staff, or increase targeted programming.
"Is there anyone who truly believes we do not already know the schools, the districts, the students that need help?" said MEA Lobbyist Christina Canfield. "Now we need legislation that solves the problems creating the achievement gap."
The Michigan Department of Education (MDE) has spent nearly a year developing an alternative to A-F letter grades for schools to communicate with parents – a "school transparency dashboard" that will provide information to communities on every school building in the state, including charters. The dashboard meets the requirements of the new bipartisan federal education law, the Every Student Succeeds Act (ESSA).
More than 20 different factors or measures of school quality will be reported in the dashboard, which was rolled out in November for public input, including indicators such as graduation rates, advanced course offerings, student achievement, and attendance rates.
Meanwhile, Republicans on the House Education Reform Committee last week passed HB 5526 to create an A-F grading system. Amendments to the bill removed language that would impose sanctions on the lowest-ranked schools, including possible closure.
The bill would create a 13-member commission of political appointees – including only one educator – to study how student growth is measured in schools.
Other groups in opposition to HB 5526 include the Tri-County Alliance for Public Education, a coalition of education leaders fighting for strong K-12 schools in Michigan. That group was part of a larger coalition of education and business leaders – the School Finance Research Collaborative – which released an exhaustive study last month detailing the inadequacy of Michigan's funding of schools.
In addition, the head of Michigan Parents for Schools testified against the measure before the House Education Reform Committee. Executive Director Steve Norton told lawmakers that labeling high-poverty schools with grades doesn't make sense and isn't good policy.
Michigan's child poverty rate has nearly doubled since 2000, and children whose families were hit hard by the Great Recession in 2009 are now reaching testing age, Norton told the committee.
"Those children who were born near the top of that (economic downturn) are now in second grade, and they are going to be taking the M-STEP next year. We know, social scientists know, these parents know that most of what affects a child's ability to take advantage of education happens outside of the school. So we are going to see effects from this."
Michigan Parents for Schools is a non-profit organization made up of public school parents who believe it's time to address school funding problems and ensure schools have the resources they need to educate children.